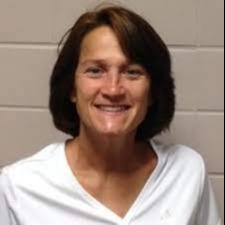 Denise McClanahan
Perry Meridian
Denise Gritton McClanahan has been a high school basketball coach for 33 of the past 35 years, compiling a 238-233 record in 23 seasons as a varsity head coach. She is recognized as an IBCA Virgil Sweet Award winner for her contributions to basketball beyond her years of coaching.
For the past 35 years, McClanahan has organized and directed the Lady Mac Summer League, a program that serves as many as 70 schools and 700 players during June each summer with teams participating from Terre Haute to Richmond, Seymour to Marion and all across the Indianapolis area. There are divisions for prospective varsity, junior varsity and entering ninth-, eighth- and seventh-grade players with about 400 games played over 12 dates each June.
McClanahan also has been active in travel teams and camps throughout her career. She has guided travel teams for 31 years in the Indy Southside, Lady Mac, Indiana's Finest, Indiana Elite and Indiana Faith club programs with multiple Indiana AAU state championships, numerous national tournament appearances and two AAU national championships. In addition, she operated High Intensity Girls Basketball Camp and Showcase events from 1991 to 2000. These events started when there were few girls-only camps and ended when most in-state universities began offering similar opportunities.
She also has been active in a number of coaching associations as well as a number of boards and service groups. Those include long-term memberships in the Indiana Basketball Coaches Association, the Indiana Coaches of Girls Sports Association and the Marion County Coaches of Girls Sports Association as well as serving on the advisory board for Indy Indoor Sports Park from 2000-14, the ICGSA poll committee in 1997-98, the ICGSA executive board from 2002-05 and the Indiana Elite executive board from 2004-15.
McClanahan has been honored in the past with the MCCGSA Jan Brown Award of Excellence in 2007 and the NFHS Outstanding Contribution to Sport Award in 2010. And April 2023 will be most memorable for her as, in addition to her Virgil Sweet Award, she also will be a 2023 inductee to the Indiana Basketball Hall of Fame as the Indiana Fever Silver Medal Award winner.
A 1981 graduate of Perry Meridian High School, Denise Gritton earned 12 varsity letters with four each in basketball, diving and track & field. Her basketball team was a two-time Marion County Tournament champion, she three times qualified for the State Finals in diving and s he was a three-year class president while in high school.
She went on to play four years of college basketball, one season at Central Michigan, one season at Butler University and two seasons at IUPUI en route to earning a bachelor's degree in physical education and health from IUPUI in 1985. She later earned a master's degree in physical education and sports administration from Indiana University in 1991.
McClanahan has been a teacher for Perry Township Schools for 37 years (1986-87 at Meridian Middle School, 1987-2010 at Southport High School and 2010-present at Southport Middle School). She served as Southport's varsity girls' basketball coach with a 236-215 record from 1987-2009 and was the Beech Grove varsity girls' basketball coach in 2012-13.
She also has been a boys' basketball sixth-grade coach for one year in Beech Grove, coach of the semi-pro WABA Indiana team in 2011-12 as well as a girls' basketball assistant coach for one year at Franklin Central, seven years at Roncalli and most recently the past two seasons at Perry Meridian. She also served as a high school swimming and diving coach for seven years and girls' soccer coach for three years at different points.
While a varsity head coach, McClanahan's teams won four sectional championships (1989, 1991, 1992 and 1993), two Marion County Tournament titles and two Central Suburban Athletic Conference crowns (1993 and 1994). She twice was honored as Marion County Coach of the Year (1990 and 1995) and CSAC Coach of the Year (1993 and 1994). McClanahan was a coach in the Indiana East-West All-Star Classic in 1991, the Indianapolis City-County All-Star Game in 1995, was a Junior All-Star assistant coach in 2000 and was an Indiana All-Star assistant coach in 2002.
While it is clear that McClanahan has loved to share her passion for basketball the past 35 years, the one thing she loves more is being a mother to her daughter, Macy, 28.