Year(s)

Executive Director
Hometown/School(s)
1971-1976
Marion Crawley
Lafayette Jeff
1977-1984
Virgil Sweet
Valparaiso
1984-1994
Bob King
Purdue
1994-2002
George Griffith
Richmond
2002-Present
Steve Witty
Ben Davis

Marion Crawley

Virgil Sweet

Bob King

George Griffith

Steve Witty

** See below for a short paragraph

on each of our Hall of Fame Executive

Directors.
Marion Crawley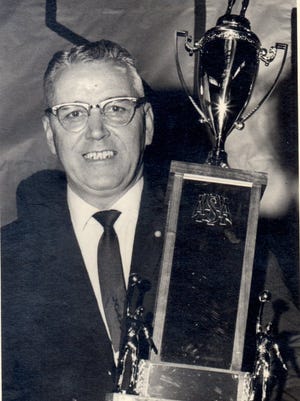 High School: Greencastle 1926
College: DePauw University 1930
Inducted in HOF 1964
During a 35-year coaching career, his teams won 644 games…career included 7 years at Greencastle and 4 at Washington…won 2 state crowns at Washington, 1941 and '42…2 more at Lafayette Jefferson, 1948 and 1964…won 32 sectionals, including a record 23 straight during his 24 years at Jefferson…21 regionals, 14 semistates and 3 state runner-ups…doubled for many years as Jefferson's athletic director…as football coach also compiled 93 victories, 5 conference titles and a number-one state ranking in 1950…the first executive director of the Indiana Basketball Coaches Association. Deceased.
Virgil Sweet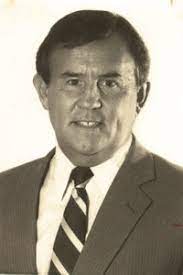 High School: Covington 1945
College: EASTERN ILLINOIS 1950
Inducted in HOF 1987
Coached H.S. teams to 342 victories in 25-yr career…20 of those were spent at Valparaiso where his sectional tourney record was 48-6…twice coached Vikings to final 8…noted for fielding fundamentally sound teams, especially in free-throw shooting…his 1963-64 team shot .792 for season, a national high school team record…member of that team, Mike Copper, set an individual record for high school players by hitting 409 consecutive free throws without leaving the line…coached 2 H.S. All-Americans and 54 players who went on to college ball…16 became coaches.
Bob King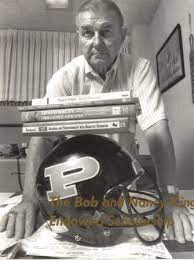 High School: Indianapolis Shortridge 1937
College: BUTLER UNIVERSITY 1947
Inducted in HOF 1986
Longtime member of the Purdue University coaching staff and athletic administration … well-known and respected as a college scout and recruiter … 1984 winner of the Joe Boland Award, given by Indiana sportswriters for service to athletics … executive director of Indiana Basketball Coaches Association, which he helped organize … past president of the Indiana Collegiate Coaches Association … chairman of District IV, National High School Coaches Association … played and then coached basketball and football 13 years at Shortridge. Deceased.
George Griffith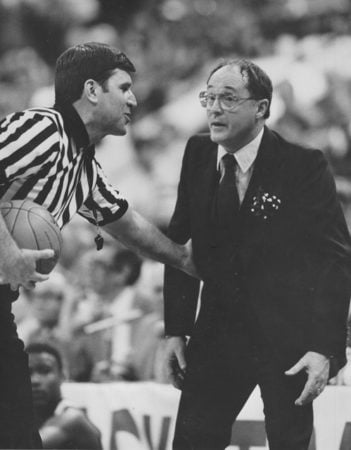 High School: Brighton 1960
College: BALL STATE UNIVERSITY 1965
Inducted in HOF 1997
Asst coach S. Bend Adams 7 yrs, head coach at South Bend LaSalle (9 yrs) & Richmond (11 yrs) … Griffith's 24-5 Richmond team defeated Lafayette Jeff in an all-North Central Conference state championship game by a 77-73 overtime score in 1992, bringing home title that had eluded the Rose City for 8 decades … Richmond record was 213-74 … won 13 sec, 9 reg, 3 semistate, 1 state championship at LaSalle and Richmond and 2 teams were runners-up.
Steve Witty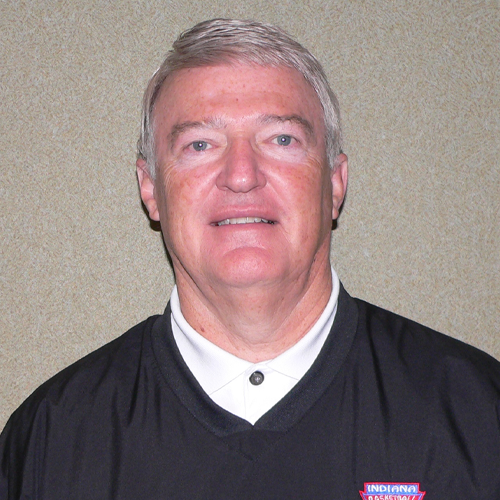 High School: Center Grove 1965
College: FRANKLIN COLLEGE 1969
Inducted in HOF 2012
Three-year letterman for Center Grove H.S., Mid-State Conference Mental Attitude Award winner…3-year letterman for Franklin College…head coach at Ben Davis from 1990-2002, teams went 266-68 (80%)…only coach in 87-year history of non-class basketball to take teams to 4 consecutive Final Fours…state champions in 1995 & 1996, state runner-up in 1993, his teams won 3 straight Marion County tournaments, 64 straight games versus Marion County teams, 7 straight sectionals, 5 straight regionals, 4 straight semi-states & averaged 20 wins per season…teams were ranked #1 in 1993, 1994, 1995, 1997, 2001, 2002…2-time state Coach of the Year, 3-time IBCA district Coach of the Year & 6-time Marion Co. Coach of the Year…coach of 1994 Indiana All-Stars…Exec. Director of Indiana Basketball Coaches Assoc. Coach Witty is the longest serving Executive Director in the history of the IBCA.