| | | |
| --- | --- | --- |
| Year(s) | Executive Director | Hometown/School(s) |
| 1970-1974 | Marion Crawley | Lafayette Jeff |
| 1974-1984 | Virgil Sweet | Valparaiso |
| 1984-1994 | Bob King | Purdue |
| 1994-2002 | George Griffith | Richmond |
| 2002-2022 | Steve Witty | Ben Davis |
| 2022-Present | Marty Johnson | East Noble |
See Below for a short bio on all of our Hall of Fame Executive Directors
Marion Crawley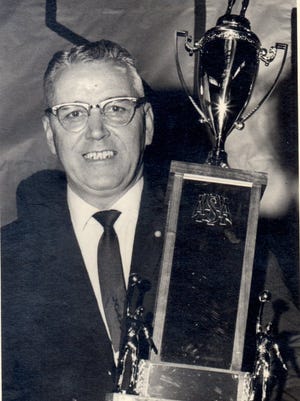 High School: Greencastle 1926
College: DePauw University 1930
Inducted in HOF 1964
During a 35-year coaching career, his teams won 644 games…career included 7 years at Greencastle and 4 at Washington…won 2 state crowns at Washington, 1941 and '42…2 more at Lafayette Jefferson, 1948 and 1964…won 32 sectionals, including a record 23 straight during his 24 years at Jefferson…21 regionals, 14 semistates and 3 state runner-ups…doubled for many years as Jefferson's athletic director…as football coach also compiled 93 victories, 5 conference titles and a number-one state ranking in 1950…the first executive director of the Indiana Basketball Coaches Association. Deceased.
Virgil Sweet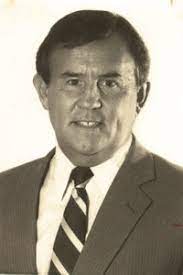 High School: Covington 1945
College: EASTERN ILLINOIS 1950
Inducted in HOF 1987
Coached H.S. teams to 342 victories in 25-yr career…20 of those were spent at Valparaiso where his sectional tourney record was 48-6…twice coached Vikings to final 8…noted for fielding fundamentally sound teams, especially in free-throw shooting…his 1963-64 team shot .792 for season, a national high school team record…member of that team, Mike Copper, set an individual record for high school players by hitting 409 consecutive free throws without leaving the line…coached 2 H.S. All-Americans and 54 players who went on to college ball…16 became coaches.
Bob King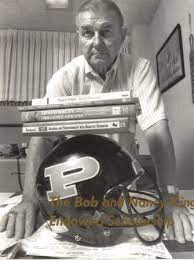 High School: Indianapolis Shortridge 1937
College: BUTLER UNIVERSITY 1947
Inducted in HOF 1986
Longtime member of the Purdue University coaching staff and athletic administration … well-known and respected as a college scout and recruiter … 1984 winner of the Joe Boland Award, given by Indiana sportswriters for service to athletics … executive director of Indiana Basketball Coaches Association, which he helped organize … past president of the Indiana Collegiate Coaches Association … chairman of District IV, National High School Coaches Association … played and then coached basketball and football 13 years at Shortridge. Deceased.
George Griffith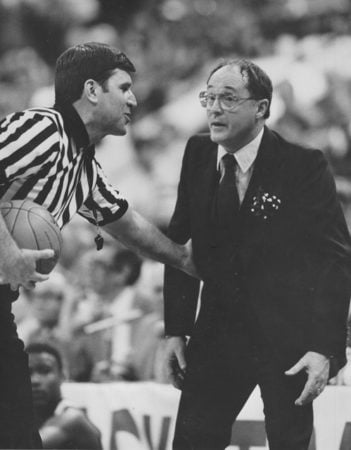 High School: Brighton 1960
College: BALL STATE UNIVERSITY 1965
Inducted in HOF 1997
Asst coach S. Bend Adams 7 yrs, head coach at South Bend LaSalle (9 yrs) & Richmond (11 yrs) … Griffith's 24-5 Richmond team defeated Lafayette Jeff in an all-North Central Conference state championship game by a 77-73 overtime score in 1992, bringing home title that had eluded the Rose City for 8 decades … Richmond record was 213-74 … won 13 sec, 9 reg, 3 semistate, 1 state championship at LaSalle and Richmond and 2 teams were runners-up.
Steve Witty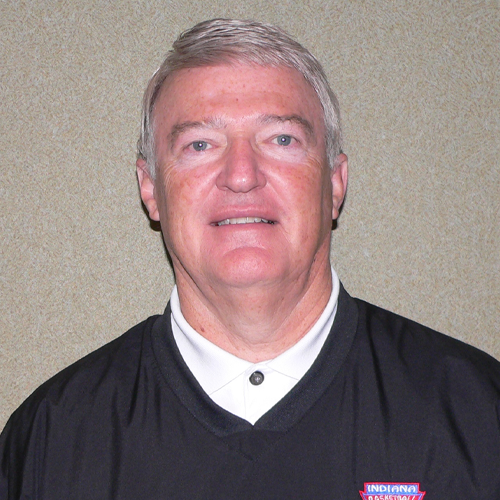 High School: Center Grove 1965
College: FRANKLIN COLLEGE 1969
Inducted in HOF 2012
Steve Witty had a fabulous run at Indianapolis Ben Davis High School from 1990-2002 where his teams went 266 & 68 (80%). Steve was the only Indiana coach in the 87 year history of "non class" basketball to lead teams to four consecutive Final Fours. Ben Davis was back to back state Champions in 1995 & 1996, and were runner-up in 1993. His teams averaged 20 wins a season and were ranked #1 in 1993, 1994, 1995, 1997, 2001, and 2002. Steve received Coach of the Year recognition 11 different times and was a two-time finalist for NFHS National Coach of the Year. Steve is the author of the book/ Remember When the Game Had No Class plus eight basketball strategy books and produced instructional DVDs while doing clinics in Australia.
After retiring from coaching in 2002, Steve became the Executive Director of the Indiana Basketball Coaches Association (IBCA). During his tenure as Executive Director, the IBCA has become more active and innovative including taking over the production of the Indiana Kentucky All Star Games that have been played since 1940 and the creation of the Top 100 Boys and Girls Showcases that have been adopted by other states across the country. In 2022 Steve assumed the position of Executive Director Emeritus with the IBCA.
Steve is one of the co-founders of the National High School Basketball Coaches Association (NHSBCA) and in the past has served as Vice-President/Treasurer. During the formative years of the NHSBCA Steve and the IBCA hosted many yearly conferences in Indianapolis. Steve is the Past President of the National Organization of Coaches Association Directors (NOCAD) and the Indiana Basketball Hall of Fame. In 1997 Steve was awarded the Sagamore if the Wabash honors by Indiana Governor Evan Bayh. Steve was inducted into the Franklin College Hall of Fame in 2007. In March 2012 he was inducted into the Indiana Basketball Hall of Fame and in July of 2012 he was inducted into the NHSBCA Court of Honor. Steve holds three degrees from Franklin College, Indiana University and Butler University. Steve and his wife Jeanie are the proud parents of son Derick and daughter Kara and four grand-children Gracie, Cooper, Jack, and Ava.
Marty Johnson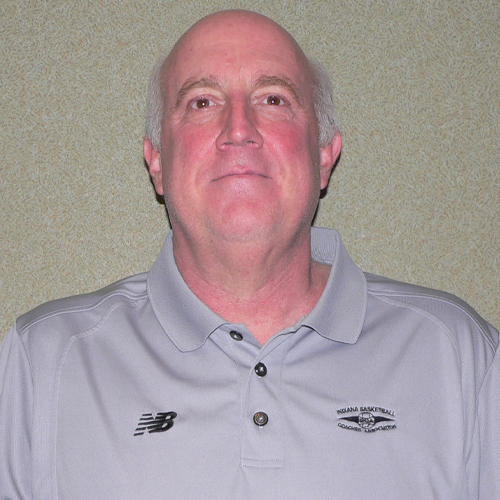 Marty Johnson is best known from his time as boys' basketball
coach at East Noble, where he compiled a 306-182 record in 21
seasons from 1985 through 2006. In Kendallville, his Knights
won seven sectionals (1988, 1990, 1993, 1995, 1996, 1997 and
2001), two regionals (1996 and 1997) and six Northeast Hoosier
Conference titles. He was an All-Area Coach of the Year seven times
and an IBCA District 2 Coach of the Year in 1993 and 1997. He was
the head coach of the 1997 Indiana All-Star team.
Johnson became coach at Whiteland in 2006, posting a 32-35
over three seasons and being named 2009 IndyStar South Coach of the Year. He stepped down as
coach at Whiteland for family health concerns. He then served as athletic director at Perry Meridian from
2012 to 2016 before moving into an administrative role for Perry Township Schools.
Johnson is 1976 graduate of Highland High School. He attended University of Indianapolis, playing
four years of basketball and graduating in 1980. He was voted second-team all-Great Lakes Valley
Conference as a senior at Ulndy. Johnson later earned a master's degree from Ball State in business
education and a second master's degree from IPFW in administration.
After college, Johnson spent three seasons as an assistant coach at Pendleton Heights. He then
went 21-21 in two seasons as the Pendleton Heights' varsity coach (1983-85) before becoming the coach
at East Noble. Overall, Johnson posted a career mark of 359-238 in 26 seasons as a varsity coach.
Johnson served on the IBCA board of directors in 1990-91, was the IBCA president in 1998-99 and
1999-2000 and the IBCA past president from 2000 to 2002. He was an IBCA assistant executive director
from 2002-14 and associate executive director from 2014-22 prior to becoming the IBCA executive
director in June 2022.
Johnson was inducted into the East Noble Athletic Hall of Fame in 2016.
He and his wife. Traci, have two adult children -- Kyle and Morgan.