Mildred Ball
Mildred Ball Women's Official of the Year (Complete Historical Listing Below)
High School: Gary Roosevelt 1953

College: INDIANA UNIVERSITY 1960

Inducted into the Hall of Fame 1998

IBCA/MILDRED BALL AWARD

Mildred Morgan Ball served as an IHSAA assistant commissioner from 1977 through 1997, responsible for the licensing and training of contest officials. In addition, she worked with the National Federation of State High School Associations' rules committee. Ball is a 1953 graduate of Gary Roosevelt High School and a 1960 graduate of Indiana University. She was a teacher at East Chicago Washington High School before joining the IHSAA staff. She was inducted into the Indiana Basketball Hall of Fame in 1998. The IBCA has presented an award to an outstanding basketball official in Mildred Ball's name since 1997.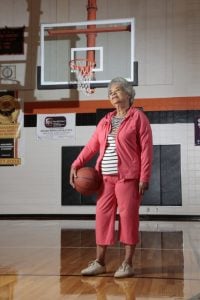 Michael Stoffers
Michael Stoffers of Terre Haute is the winner of the 2022 Mildred Ball Award.
In 33 years as an official, Stoffers has worked 22 sectionals, 14 regionals, seven semi-states and four State Finals in boys' basketball as well as 26 sectionals, 17 regionals, seven semi-states and five State Finals in girls' basketball. The boys' finals were in 2009, 2012, 2015 and 2019. The girls' finals were in 2008, 2010, 2013, 2016 and 2019.
Stoffers is a 1977 graduate of Terre Haute South High School, where he played on
the Braves' basketball team that reached the State Finals and posted a 25-3 record for coach Gordon Neff. He then attended Vincennes University, earning an associate's degree in horticulture in 1980.
Stoffers began his officiating career in 1989 and is a member of the Wabash Valley Officials Association. He has twice served as WVOA president, from 1996-2000, and he currently is the association's treasurer.
In addition to basketball, he has officiated volleyball and football, working three State Finals in volleyball (2002, 2007 and 2011) and two State Finals in football (2014 and 2018). He was named IHSAA volleyball Official of the Year in 2011.
Stoffers lists working a Class 2A girls' State Finals in 2013 in the Hulman Center in Terre Haute as a career highlight because his family was able to attend. He also noted that he enjoyed his most recent boys' State Finals because he worked that Class A title contest with good friends Steve Morris and Greg Hayes.
Professionally, Stoffers has worked the past nine years for Precision Lawn Care and Vigo Turf, a Terre Haute-based landscaping company. He is the firm's horticulturalist, who "can tell you exactly how to correct problems with any plant life."