Mildred Ball
Mildred Ball Women's Official of the Year (Complete Historical Listing Below)
High School: Gary Roosevelt 1953

College: INDIANA UNIVERSITY 1960

Inducted into the Hall of Fame 1998

IBCA/MILDRED BALL AWARD

Mildred Morgan Ball served as an IHSAA assistant commissioner from 1977 through 1997, responsible for the licensing and training of contest officials. In addition, she worked with the National Federation of State High School Associations' rules committee. Ball is a 1953 graduate of Gary Roosevelt High School and a 1960 graduate of Indiana University. She was a teacher at East Chicago Washington High School before joining the IHSAA staff. She was inducted into the Indiana Basketball Hall of Fame in 1998. The IBCA has presented an award to an outstanding basketball official in Mildred Ball's name since 1997.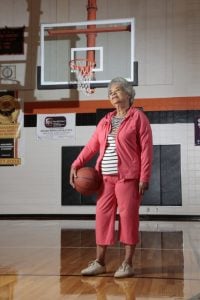 Ron Day
Ron Day of Plymouth is the winner of the 2023 Mildred Ball Award.
Now in his 32nd as an official, Day began officiating in 1991 and has worked at least one State Finals' game in each class for both boys and girls. Among those games, he called the 2009 Class 4A girls' title game in Lucas Oil Stadium between Ben Davis and South Bend Washington, a game considered a mythical national title game as the teams were ranked first and second in national polls. It was among the best attended girls' basketball games with a crowd of 13,449.
During his time as a official, Day has worked 26 sectionals, 16 regionals, seven semi-states, five State Finals (2007, 2010, 2013, 2016 and 2021) for boys' basketball as well as 26 sectionals, 18 regionals, eight semi-states and five State Finals (2006, 2009, 2012, 2015 and 2019) for girls' basketball. He also called the 2004 girls' Hall of Fame Classic in New Castle.
Day as been a member of the Northern Officials Association of Indiana for 30 years and also the Lake County Association for 15 years. Has served as a clinician for a number of years and mentored many younger officials.
A 1981 graduate of Plymouth High School, Day participated in basketball and track, was a two-time all-conference honoree in track and part of a 400-meter relay that held a school record for more than 25 years. He went on to Indiana University, where he was a 1986 graduate of the Kelley School of Business. He has been a self-employed contractor in a family business for 33 years.
Day and his wife, Lori, have two adult children – Katie (husband Brendan) and Eric (wife Kristen) – as well as two grandchildren with a third grandchild due in June. In his free time, Day enjoys spending time with family as well as traveling, reading, golfing and cheering the Minnesota Vikings.
As for officiating, Day said: "I was fortunate to have three excellent regular partners in officiating – Tim Filson, Brian Allen and Tom Hinz. They made it fun each and every night. Also, a shout out to my son, Eric, who attended hundreds of my games and is the best observer I ever had."