Griffith, Witty, Turpa, Sullivan Coaching Awards
George Griffith
High School: Brighton 1960
College: BALL STATE UNIVERSITY 1965
Inducted Hall of Fame 1997
Ast coach S. Bend Adams 7 yrs, head coach at South Bend LaSalle (9 yrs) & Richmond (11 yrs) … Griffith's 24-5 Richmond team defeated Lafayette Jeff in an all-North Central Conference state championship game by a 77-73 overtime score in 1992, bringing home title that had eluded the Rose City for 8 decades … Richmond record was 213-74 … won 13 sec, 9 reg, 3 semistate, 1 state championship at LaSalle and Richmond and 2 teams were runners-up.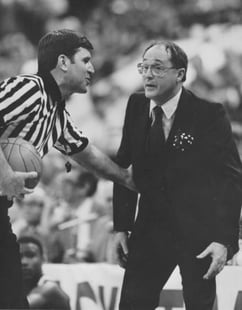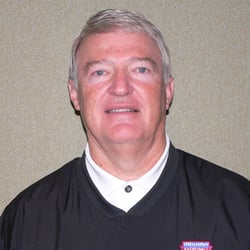 High School: Center Grove 1965
College: FRANKLIN COLLEGE 1969
Inducted in HOF 2012
Steve Witty had a fabulous run at Indianapolis Ben Davis High School from 1990-2002 where his teams went 266 & 68 (80%). Steve was the only Indiana coach in the 87 year history of "non class" basketball to lead teams to four consecutive Final Fours. Ben Davis was back to back state Champions in 1995 & 1996, and were runner-up in 1993. His teams averaged 20 wins a season and were ranked #1 in 1993, 1994, 1995, 1997, 2001, and 2002. Steve received Coach of the Year recognition 11 different times and was a two-time finalist for NFHS National Coach of the Year. Steve is the author of the book/ Remember When the Game Had No Class plus eight basketball strategy books and produced instructional DVDs while doing clinics in Australia.
After retiring from coaching in 2002, Steve became the Executive Director of the Indiana Basketball Coaches Association (IBCA). During his tenure as Executive Director, the IBCA has become more active and innovative including taking over the production of the Indiana Kentucky All Star Games that have been played since 1940 and the creation of the Top 100 Boys and Girls Showcases that have been adopted by other states across the country. In 2022 Steve assumed the position of Executive Director Emeritus with the IBCA.
Steve is one of the co-founders of the National High School Basketball Coaches Association (NHSBCA) and in the past has served as Vice-President/Treasurer. During the formative years of the NHSBCA Steve and the IBCA hosted many yearly conferences in Indianapolis. Steve is the Past President of the National Organization of Coaches Association Directors (NOCAD) and the Indiana Basketball Hall of Fame. In 1997 Steve was awarded the Sagamore if the Wabash honors by Indiana Governor Evan Bayh. Steve was inducted into the Franklin College Hall of Fame in 2007. In March 2012 he was inducted into the Indiana Basketball Hall of Fame and in July of 2012 he was inducted into the NHSBCA Court of Honor. Steve holds three degrees from Franklin College, Indiana University and Butler University. Steve and his wife Jeanie are the proud parents of son Derick and daughter Kara and four grand-children Gracie, Cooper, Jack, and Ava.
Renee' Turpa currently serves as both Group Ticket Coordinator and women's basketball color analyst for Valparaiso University, where she received her master's degree in 1989. In addition to her responsibilities at Valpo, the former teacher and coach at Portage High School works in multiple facets with several basketball organizations both statewide and nationally. Turpa sits on the Board of Directors for both the National High School Basketball Coaches Association (NHSBCA) and the National Organization of Coaches Association Directors (NOCAD). Furthermore, she serves as Assistant Director with the Indiana Basketball Coaches Association (IBCA) in addition to her role on the Women's Basketball Coaches Association (WBCA) Youth Sports Committee. A 1979 graduate of Ball State University, Turpa earned six varsity letters while with the Cardinals: women's basketball (4), women's golf (1), and softball (1). She holds the distinction of starting in the Women's College World Series in 1975. Following her days in Muncie, Turpa taught special education at Portage High School for 32 years, where she authored and taught the Adaptive Physical Education Curriculum. In addition to her service in the classroom, she served as varsity girls basketball coach for the Indians for 17 years. Turpa remains the winningest coach in school history for either gender. When basketball wasn't in season, she led the cross country and track programs at Portage. Turpa returned to the bench in 2016 as an assistant coach with Marquette Catholic. She helped guide the Blazers to state titles in 2018 and 2019 in addition to three regional championships.
NHSBCA Ring of Honor Inductee(2021)
Renee' has been married to her husband, Pete, for 40 years as of June 7th, 2021. He was a history teacher and football coach at Portage and Valparaiso High schools for 33 years before retiring. The Turpas reside in Valparaiso, Indiana.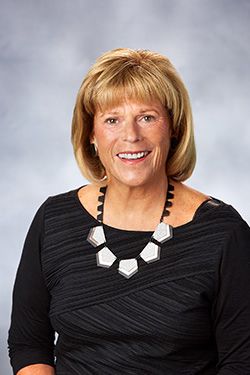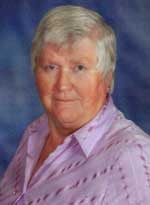 Donna Sullivan is a 1966 graduate of Orleans High School and a 1970 graduate of Indiana University, where she competed in volleyball, softball and field hockey on a club level because intercollegiate sports were not offered for women at that time … coached girls basketball at Seymour 1970 through 2001, compiling a career record of 344-241 with 10 sectional and five regional championships, one semi-state, one State Finals appearance in 1987 and two South Central Conference championships … four players chosen to the Indiana All-Star team (Erika McCoy, Teri Moren, Julie VonDielingen and Amber Holle) … four players inducted to Indiana Basketball Hall of Fame (McCoy, Moren, VonDielingen and Jane Emkes) … head coach of the Indiana All-Star team in 1989 and Indiana All-Star assistant coach in 1982 … voted an IBCA District 5 Coach of the Year in 1986 … named an ICGSA District 5 Coach of the Year four times … also coached volleyball from 1973-89 (359-102 with four SCC, 12 sectional, six regional and two semi-state titles) and track from 1973-80 (45-12 with one SCC title) … was the Owls' assistant athletic director from 1977 through 2003 … after stepping down at Seymour, she later has served as a girls basketball assistant coach at Waldron and Trinity Lutheran … conducted basketball clinics in Africa in 1985 and worked numerous basketball camps in Indiana during summers throughout the 1980s and 1990s … received the Indiana Coaches of Girls Sports Association Service Award in 2000 … presented the National Federation of High School's Robert F. Kanaby Citizenship Award in 2001 … inducted into the Indiana Basketball Hall of Fame in 2002 … winner of the IBCA Virgil Sweet Award in 2004 … received the Indiana Basketball Hall of Fame "President's Award" in 2003 and 2012 … received the Grotke Award from Indiana University in 2015, the highest award given to a former female athlete at IU … inducted into Seymour High School's inaugural Athletic Hall of Fame Class in 2017.
George Griffith, Steve Witty, Renee' Turpa, and Donna Sullivan Awards
These awards were established in 2001-02 as the George Griffith Award. They were presented under that name to state champion and state runner-up coaches -- boys and girls -- from 2001-02 through 2019-20.
For 2020-21 and 2021-22, boys' state champion and boys' state runner-up coaches both received the George Griffith Award. Beginning in 2022-23, boys' state champion coaches continued to receive George Griffith Award and boys' state runner-up coaches received Steve Witty Award.
Beginning 2020-21, girls' state champion coaches received the Renee Turpa Award and girls' state runner-up coaches received the Donna Sullivan Award.
Complete listing below.
Started in 2002