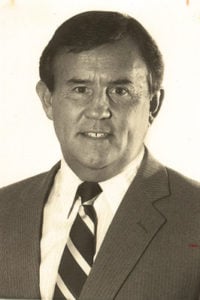 High School: Covington 1945

College: EASTERN ILLINOIS 1950

Inducted Hall of Fame 1987

Coached H.S. teams to 342 victories in 25-yr career…20 of those were spent at Valparaiso where his sectional tourney record was 48-6…twice coached Vikings to final 8…noted for fielding fundamentally sound teams, especially in free-throw shooting…his 1963-64 team shot .792 for season, a national high school team record…member of that team, Mike Copper, set an individual record for high school players by hitting 409 consecutive free throws without leaving the line…coached 2 H.S. All-Americans and 54 players who went on to college ball…16 became coaches.

Each year the IBCA Board of Directors selects individuals from each of the three districts to receive the Virgil Sweet Distinguished Service Award. The award, named in honor of longtime Executive Director of the IBCA, are given to individuals who have provided meritorious service promoting basketball in the state of Indiana. Awards are presented to these individuals at the Annual IBCA Spring Clinic.
1982 to the Present
Virgil Sweet Award winners

Virgil Sweet Award winners as presented by the Indiana Basketball Coaches Association from 1982-present. Five winners per year from 1982-2003 when the IHSAA was in a five-district format. Three to eight winners per year from 2004-present when IHSAA has been in a three-district format