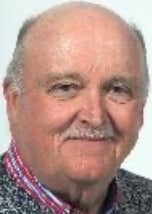 Andy Amey
terre haute tribune-star
Andy Amey's byline has been a fixture in Terre Haute for more than 50 years with the
Terre Haute Tribune-Star. But his journalism career began a long time before – in his second-grade classroom at Lowell's Center Grade School when Amey wrote about the eighth-grade basketball team.
Since then, Amey has written millions of words about sports and people of all ages who take part in them. The best compliment that can be made about Amey is a line oft- repeated by his subjects, according to current Tribune-Star sports editor Todd Golden.
"When you're out and about in the Wabash Valley, especially at Vigo County's high schools, student- athletes will say that a story written about them is an 'Andy Amey story,' Golden wrote when Amey was inducted into the Indiana Sportswriters & Sportscasters Hall of Fame in 2014. "Given Amey's (then 43) years of service at the publication, he's earned that level of esteem."
A 1966 graduate of Lowell High School, Amey loved high school basketball throughout his youth, a quality instilled in him by his father. Amey still writes an "Amey Takes Aim" column that occasionally alludes to attending all-day sectionals as a youngster at East Chicago Washington, mentions standout Region basketball players of the late 1950s and 1960s, or recalls a sectional snowstorm that nearly prevented him, several friends and Lowell assistant coach Jim Forrester from getting home from the Hammond Sectional in 1965.
Amey went on to attend Indiana State University, where he enjoyed watching and describing the exploits of the Sycamores' basketball team. He was sports editor of The Indiana Statesman for 41⁄2 years and began seeking a teaching and coaching position upon graduation in 1971. When none materialized, Terre
Haute Star sports editor Tom Reck hired Amey as a part-time sportswriter that August 1971, and the rest is history.
Over the years, Amey also worked as an Indiana State assistant sports information director, a substitute teacher, a stock boy, a survey writer for Prairie Farmer magazine and an assistant high school baseball coach. He has covered Larry Bird's Sycamores in the late 1970s, the 1996 Turkey Run single-class softball state title run, a state tennis title for Terre Haute South, and basketball state championships won by the Terre Haute South girls and the Robinson (Illinois) boys.
"Sportswriting is a job that picked me, not one that I picked, but I am extremely fortunate that it's come this far," Amey said in 2014. "And it's going to go farther. What am I going to do? Stop going to games?"