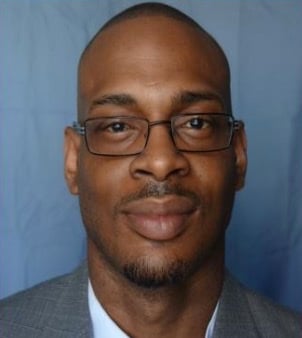 Karl Turk
Assistant Coach, Cloverdale high School
There was a time in 1994 when there was concern that Karl Turk might not survive. Or might not ever walk again. Or might not ever be able to do many things that most people consider normal.
Fortunately, Karl Turk was not one of those people.
Rather, Turk, a life-long basketball fanatic, overcame a tremendous medical challenge, readjusted some of his goals and has become an outstanding coach, teacher and citizen. Thus, the Cloverdale High School boys' basketball varsity assistant and JV coach is a 2022 winner of a Point Guard College/Indiana Transformational Coach Award as determined by the Indiana Basketball Coaches Association.
"Karl is the epitome of a servant leader," said Patrick Rady, the Cloverdale boys' basketball varsity coach who has worked with Turk at three schools and nominated him for this award. "Karl is a lifelong learner in all of life's matters and persistently
leads by example. He never is satisfied with the status quo. He doesn't push anyone any harder to be their best than he does himself.
"In my experience with Karl, I have witnessed his unique ability help players to reach their full potential by getting to know each and every player's personality, then motivating each one according to his individual makeup. One of his beliefs is you can't have discipline without a relationship. Karl is able to provide positive and negative feedback to players, and it is received with an open mind from the players because he has already built relationships."
Before someone can understand Turk now, one must understand the path he has traveled.
Flashback to Jan. 21, 1994. Turk, then an eighth grader at Forest Manor Junior High in Indianapolis, is a basketball fan and young basketball player. That night, the 14-year-old watched on television the Chicago Bulls beat the Indiana Pacers in an intense game. He walked to bed. He woke up paralyzed. He was rushed to the hospital. For two weeks, he was paralyzed from the waist down and temporarily lost some of his eye sight.
After numerous tests, Turk was diagnosed with "transverse myelitis," a rare disease that causes inflammation of the spinal cord and prevents his spinal cord from sending signals to his brain and lower extremities. Most patients do not recover well, and young Karl spent the next 66 days in the hospital.
A turning point came when Reggie Miller, the then-Pacers' star and Turk's favorite player, visited Turk in the hospital. Miller and Turk spent the next couple of hours discussing each of their stories. Miller told Turk about how Miller had grown up with pronated hips and had to wear leg braces similar to the braces Turk was wearing at the time. He talked about what it took to be in the NBA: that many good ball players failed to embrace and work on what they were not good at, and personality and character weeded many good players out.
"Reggie inspired me and helped me to embrace who I was," Turk said in a past interview. "For that moment, I felt he believed in me and saw my potential for greatness."
It is a message that stuck with Turk as he entered Arlington High School in a wheelchair and began to adjust his dreams. There was hope he could walk again, but he would have to have assistance. Turk participated in a rigorous physical therapy regimen throughout high school. By his senior year, he shed his last leg brace and began to walk with a cane, which he continues to walk with today.
He no longer played basketball, but he still loved the game and became a Golden Knights' student manager for coach Larry Nicks from 1995-98 with duties including compiling statistics and calling in results to the newspaper. Turk matriculated to Indiana State University, where he continued to be a student of the game as a manager for coach Royce Waltman's Sycamores for one year, an assistant coach for Pat Rady Sr. at Terre Haute South High School for two years and the video coordinator for Waltman and ISU for one year before earning a bachelor's degree in Spanish in 2005.
In 2005-06, Turk assisted Pat Rady Jr. with the boys' basketball program at Southwestern High School in Hanover. From 2006-08, Turk worked as the director of basketball operations for Texas A&M- Corpus Christi men's basketball, being a part of an NCAA Tournament program in 2007. From 2010-14, he was an assistant coach at West Oso High School, which won the Texas Class 3A state title in 2011. From 2014-16, Turk was the West Oso varsity coach, guiding the Bears to a 50-20 record in two seasons. He was named the South Texas Coach of the Year in 2015 and directed his team to a Texas Region IV- 4A berth in 2016.
After 10 years in Texas, Turk returned to Indiana where he again joined Pat Rady Jr., this time the varsity assistant and JV coach at Cloverdale. Turk has thrived in six years at Cloverdale, where he teaches Spanish, teaches and oversees the school's JAG curriculum (Jobs for America's Graduates) and serves as an after-school tutor, an assistant athletic director and public address announcer for many school events.
Turk has made such an impact at Cloverdale that he was named 2021 Putnam County Citizen of the Year by the Putnam County Chamber of Commerce on March 12, 2022. Cloverdale superintendent Greg Linton described Turk as a "phenomenal teacher" and noted how he spends countless hours helping students prepare for college.
"He's the first guy (the students will) show their acceptance letter because he did so much to help them prepare," Linton told the Greencastle Banner-Graphic.
Cloverdale principal Sonny Stoltz also was effusive in praising Turk.
"Karl is a unique, special and dedicated educator," Stoltz told the Banner-Graphic. "He works hard to give each student who comes in contact with him his undivided attention. He at times serves as the
face of Cloverdale High School with his presence at sporting events and his guidance in post-secondary education. The students love him. The staff respects him."
Rady provided additional perspective in his nomination of Turk for the PGC Transformational Coach Award.
"Since the fall of 2002, I have considered Karl a colleague and a friend," Rady said. "Since that time, I have had the pleasure of watching Karl blossom into an outstanding coach, leader and teacher.
"He is an advocate for the entire school and community. He makes it a point to encourage all athletes and students to truly take interest in their school through extra-curricular participation. Karl understands the importance of education in a person's life, and he is driven to see his players and students be lifelong learners."