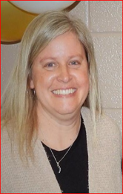 Stephanie Richie
Assistant Coach, Evansville high School
Stephanie Richie has been a girls' basketball coach for 23 years, 20 of them at Thompkins Middle School in Evansville and the past three seasons as an assistant coach at Evansville Central High School.
She has been a key contributor to the Bears' program since moving to the high school, helping the team go 15-12 and win a sectional in 2022-23, after two decades of developing players at the middle-school level. Thus, Richie has been named an IBCA Assistant Coach of the Year for 2023.
"Since joining our staff, Stephanie has made my life so much easier," Evansville Central head coach Dave Alexander said in nominating Richie. "She has taken a load of scouting off of my plate, always helps with laundry, watches video and does research to add new elements to our practice and games. She has taken on the mother role for many of our girls and constantly provides motivation to our girls. She has brought in 'What's Good Wednesday' to help our girls find highlights and positive aspects of their lives."
A 1997 graduate of Evansville Central, the former Stephanie Minor was a standout basketball player and soccer player for the Bears. She holds basketball program records for single season-season assists (139) and career assists (286). She was even better in soccer, leading the team to a sectional title while being named first-team all-SIAC and ICGSA second-team all-state as a senior.
She went onto the University of Southern Indiana, where she still holds soccer school records for goals in a career (39), goals in a season (12), assists in a career (29) and points in a career (107). She was 1997 Great Lakes Valley Conference Freshman of the Year en route to being voted a four-time all-GLVC player, a four-time all-Great Lakes Region selection and a three-time GLVC all-academic honoree.
At USI, Richie completed a bachelor's degree in education in 2001 and added a master's degree in education in 2011. She began her teaching and career in 2000-01 at Thompkins Middle School, the same middle school she attended in the early 1990s and where she remains as an eighth-grade English teacher.
In her first season as a girls' basketball coach, she assisted Paul Neidig with the middle school varsity team. She then followed with 19 seasons as the TMS varsity head coach, guiding the Jets to three league championships and five middle school City titles. She also served as an Evansville Central girls' soccer assistant for two seasons, including a State Finalist team in 2004.
"Steph has coached at the middle school and high school levels for 23 years now, so generations of current and past Central athletes go out of their way to say hello to her," Alexander said. "She is often referred to as the greatest coach ever by many of our basketball players.
"She is recognized in the community as a prominent teacher, role model and coach. Even as an assistant, she is a staple of our program and her impact in our community is immense. … She is Central basketball."
Richie is married to Jeremy, who played tennis for Evansville Central and USI. The couple has one son, Noah, 17, a current Evansville Central senior who plays basketball and baseball.