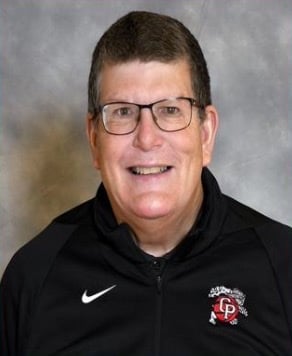 Scott Reid
Assistant Coach, Crown point high School
Scott Reid has been a basketball coach for nearly all of the past 42 seasons, 34 of them as a Crown Point girls' basketball assistant coach.
The other eight seasons? Three seasons as the Crown Point boys' freshman coach, two seasons as the Lady Bulldogs' girls varsity coach, two seasons as the girls' head coach at Crown Point's Taft Middle School and one season where he did not coach.
An assistant to Hall of Fame coach Tom May for 24 seasons, an assistant to Hall of Fame player Anne Kvachkoff Equihua for three seasons and an assistant to Chris Seibert the past seven seasons, Reid retired from coaching at the conclusion of the 2021-22 season. But after being a part of teams that won 17 sectionals, eight regionals, four semi-states and three state championships, he still has one more award to receive: IBCA Assistant Coach of the Year for 2022.
A 1978 graduate of Crown Point, Reid played tennis, basketball and baseball while in high school. As a senior, he was a captain in basketball and an all-conference selection in baseball.
He returned to his alma mater as the boys' basketball freshman coach from 1980-83, then moved to assist May with the Lady Bull Dogs for the next 24 seasons. When May stepped down in 2007, Reid was the program's head coach for two seasons and followed by coaching the Taft Middle School eighth- grade team for two additional seasons. After a year out of coaching, he returned to the Crown Point bench, first assisting Equihua and then assisting Seibert.
"Coach Reid embodies the traits of dedication and integrity daily with the way he coaches and teaches," Seibert said in nominating Reid. "He always has the players' best interests in mind and is willing to do anything he can to help. He has mentored and guided countless numbers of players throughout this time, and he is more than deserving of the IBCA Assistant Coach of the Year Award."
Reid was a part of regional winners in 1984, 1985, 1988, 1992, 1997, 2019, 2021 and 2022. He was a part of semi-state champs in 1984, 1985, 1997 and 2021. And he was a part of state title teams in 1984, 1985 and 2021.
Over the years, Reid – a long-time teacher at Taft Middle School – also served in other coaching roles for Crown Point. He was the baseball varsity assistant in the early 1990s. He was the boys' tennis assistant coach and head coach later in the 1990s. He was the JV volleyball coach in 2003 and 2004.
A graduate of Purdue University-Northwest in 1994, Reid taught two years at St. Mary's School in Crown Point, one year at Andrean High School, two years at Crown Point High School and the past 22 years at Taft Middle School. He currently teaches eighth-grade U.S. history.
Reid and his wife, Janice, have been married for 41 years. They are parents to three adult daughters – Katie, Kristen and Amanda.