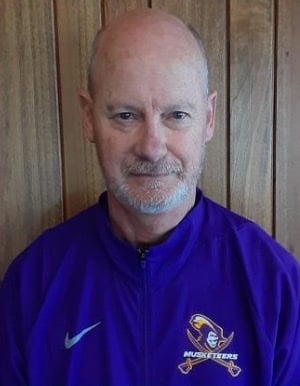 Ray Weatherford
Assistant Coach, Eastern (pekin) high School
Ray Weatherford graduated in 1971 from Borden High School, where he was a multisport athlete, including the Braves' assist leader and a co- captain in basketball as a senior.
By 1973, Weatherford was back in the gym as a coach. Now nearly a half century later, the 49th-year coach and fourth-year Eastern (Pekin) boys' basketball assistant is a constant on the sideline in southern Indiana basketball. Thus, Weatherford has been selected an IBCA Assistant Coach of the Year for 2022.
"Coach Weatherford has been a part of changing the culture of the boys' basketball team at Eastern," said second-year Musketeers' varsity coach Chandler Prible, who along with Borden coach Doc Nash jointly nominated Weatherford for this award. "In his first couple of seasons here, the program won only three games. Still, he continued to fight the good fight and he now has helped Eastern to 30 wins in the last two years combined."
Weatherford said he long has had a passion for basketball, both the game itself and using the sport to help those around him develop on and off the court. Along the way, he has assisted Prible and Mike Gilliam at Eastern as well as Nash, Mike McBride, Bill Niece, Mark Underwood, Mike Carter, James Anold and Wesley Porter at Borden.
"I'm an elder at (the Borden Church of Christ), and I've always kept the two (basketball and faith) together," Weatherford told the Jeffersonville News and Tribune in December 2017 when he returned to the sideline after a health scare that included an 11-day hospital stay. "I think it's one of the reasons for my longevity really. The Lord's blessed me to be here and put good people around me, and hopefully I've made some people better."
No one who has interacted with Weatherford – who worked for 45 years at Essroc Cement in Speed, Ind., as his primary occupation before retiring in 2016 – would dispute that statement.
"Coach Weatherford has had a huge impact on every athlete he has coached," said Nash, who coached with Weatherford for 12 seasons. "He puts God first in all he does. He has help transform young people into men. He has led in a positive light, and that light clearly shines bright through his players well after high school."
Weatherford, who also played baseball and ran track in high school, started his coaching career in 1973-74 as the Borden fifth- and sixth-grade coach. After five years in that role, he became the Borden seventh- and eighth-grade coach for the next nine years. He followed as a Borden High School assistant from 1987 through 1995 – the last of those four seasons coinciding to when his son, Brett, played for the Braves.
From 1995 to 2002, Weatherford served as the varsity boys' basketball coach at Portland Christian School in Louisville, building the Eagles into a more competitive program. His teams won 78 games during his seven-year tenure, including a school-record 16 victories in 2000-01 and 46 triumphs over his final three seasons.
"It was a perfect fit," Weatherford said of his time as a head coach, noting that the school was affiliated with his church. "I always wanted to see what it would be like in the No. 1 chair, and I was able to use basketball as my ministry. But I like being an assistant, too."
Thus, in the fall of 2002, feeling like it was "mission accomplished" at Portland Christian and tired of the commute to Louisville, the lifelong Borden resident returned to alma mater as an assistant coach. Over the next 16 seasons, the Braves posted 11 winning campaigns highlighted by a run to the Class A state championship in 2013. There also were sectional titles in 2008, 2009 and 2012 as well as another regional crown in 2008.
"Coach Weatherford was part of our first basketball sectional, regional, semi-state and state teams," Nash said. "He brings a positive 'can-do' attitude to all he does. Most importantly, he loves and supports each one of his athletes. He is always willing to help and do the right thing. He leads by example and invites other to come along."
The last four seasons, Weatherford moved to neighboring Pekin largely so he would not have to miss any games that included grandson Cade Jones, a Musketeers' current senior. The team went 1-23 and 2-21 his first two seasons there. But with hard work and dedication by players and coaches, Eastern improved to 12-13 in 2020-21 and 18-6 in the recently completed season.
"Coach Weatherford has been a great role model ever since he first started coaching," Prible said. "He is a biblical man who has the utmost integrity in everything he does. His players always know that he loves them and wants what is best for them. He has a bible study that players attend each week. Whatever a player needs, he will do his best to help make it happen for them and support them."
People across southern Indiana know Weatherford, who was married for 48 years to Debbie until her passing in June 2021. Together, they had a daughter, Dawn; son Brett and five grandchildren. Also, their first great-grandchild is due in October.
"No matter what gym we play in or go scouting in, Coach Weatherford is like a celebrity with how many people he knows and the great relationships he has built over the years with players and coaches," Prible said.
The relationships are what matter most to Weatherford, who described the 2013 state championship a career high point. While he will turn 69 years old in June, he said he plans to remain in coaching for a 50th season and possibly more.
"I've been blessed with the people and relationships and everything that goes into it," Weatherford said. "If my health's good, I will continue on."