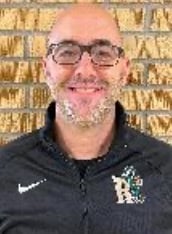 Tony Hasenour
Head Coach, Forest Park high School
Tony Hasenour is an IBCA District 3 Coach of the Year after guiding Forest Park to a 26-3 season that included the Class 2A state championship. Along the way, the Lady Rangers also claimed trophies in the Forest Park Sectional, Crawford County Regional and Jasper Semi- State.
Hasenour is 104-48 in six seasons in the top job with the Forest Park girls, including sectional titles in 2017, 2021 and 2022. He previously coached the Lady Rangers' junior varsity team to a 203-93 mark over 16 seasons.
He has been chosen to be an assistant coach for the 2022 Indiana Junior All-Stars, and he has been named 2022 Evansville Courier & Press Southwestern Indiana co-Coach of the Year.
A 1995 graduate of Forest Park, Hasenour played high school basketball for one season. He went on to attend Ball State University, graduating in 1999 with a bachelor's degree in secondary social studies education and history. In 2005, he earned a master's degree in secondary education from Indiana University-Southeast.
Hasenour began his coaching career in 2000-01 as the girls' JV coach at Forest Park. He was also the Lady Rangers' varsity assistant coach in softball for four seasons. He was on the softball staff for three sectional titles and the 2001 Class A state championship.
He is in his 22nd year as a teacher at Forest Park. He currently teaches eighth-grade social studies, high school world history and high school geography.
Hasenour and his wife, Janelle, have been married for 20 years. They have three sons – Calvin, 18, and twins Charlie and Will, 15.