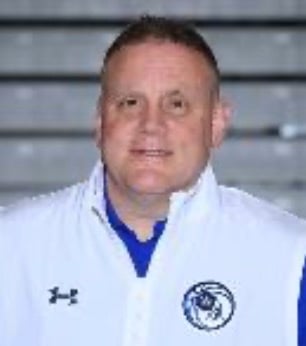 Joe Huppenthal
Head Coach, Lake Central high School
Joe Huppenthal is an IBCA District 1 Coach of the Year after leading Lake Central to a 24-4 season that included a runner-up finish in the Duneland Conference and championships in the Portage Holiday Tournament and the Munster Sectional.
In six seasons with the Lake Central girls, Huppenthal has compiled a 99-54 record with two sectional championships. In 13 seasons as a girls' varsity coach, he has a 215-93 record with seven sectional crowns. In 32 seasons as a varsity coach,
Huppenthal has a combined boys-girls ledger of 419-316 with nine sectional titles.
A 1982 graduate of Highland High School, Huppenthal attended Purdue University and was a student manager for Gene Keady in the men's basketball program from 1983-87. He served as the Boilermakers' head student manager his final two seasons.
During his four years on the sidelines, he contributed in a support role during a Purdue era that included players such as Curt Clawson, Greg Eifert, Ricky Hall, Jim Rowinski, Mark Atkinson, James Bullock, Steve Reid, Mack Gadis, Troy Lewis, Todd Mitchell, Everette Stephens, Kip Jones, Melvin McCants, Ryan Berning, Tony Jones and Stephen Scheffler.
After graduating with a bachelor's degree in math, Huppenthal became a teacher and coach. His first head coaching job was with the East Chicago Central girls, whom he led to a 103-27 record in six seasons with five sectional trophies from 1990-96. He then moved to South Bend Clay, where he guided the Colonial boys to a 204-223 mark with two sectional crowns in 19 seasons.
Huppenthal crossed the gender line a second time in 2015-16, leading the South Bend Clay girls to a 13- 12 record in one season. He then returned to The Region by accepting the girls' job at Lake Central in the spring of 2016. In six seasons there, the Indians have gone 19-7, 22-2, 9-14, 16-11, 9-11 and 24-4 with sectional crowns in 2018 and 2022.
Huppenthal earned a master's degree in secondary education from Indiana University in 2004. He is in his sixth year teaching geometry at Lake Central.
Huppenthal and his wife, Shannon, are parents to Jared, Timmy, Teddy and Phoebe. They also have one grandson, Zeke.