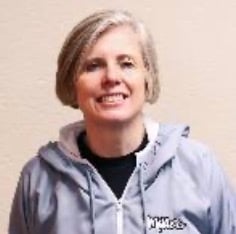 Donna Buckley
Head Coach, Noblesville high School
Donna Buckley is an IBCA District 2 Coach of the Year for the second consecutive season and the third time in her career after guiding Noblesville to a 25-4 season that included the Class 4A state championship.
Buckley has completed 14 seasons as varsity girls' basketball coach at Noblesville and is 208-118 with the Lady Millers. In 22 seasons as a head coach, including stops at Fort Wayne South and Greenfield-Central, she has a 304-192 record.
The former Donna McCarty is a 1993 graduate of Clinton Central, where she played for Hall of Fame coach Linda Barnett and helped the Bulldogs to a sectional crown as a senior. She attended Taylor University, where she played basketball for two seasons.
Buckley started her coaching career at South Adams as an assistant coach for three seasons. She then became the head coach at Fort Wayne South for one season in 2000-01 with a 10-11 record. She moved to Greenfield-Central, where her teams posted an 86-63 ledger in seven seasons, including a sectional crown in 2004. Her Noblesville teams have won three sectionals (2015, 2021 and 2022) as well as regional and semi-state crowns this season.
Buckley was an assistant coach for the 2021 Indiana All-Stars. She also was to be an assistant coach the 2020 Indiana All-Stars, but the 2020 All-Star games were canceled because of the COVID-19 pandemic.

She previously was named a Junior All-Star assistant coach in 2014, but she was unable to take part in those games because of a death in her family.
She also was an IBCA District 2 Coach of the Year in 2015 and in 2021.
Buckley is a teacher at Noblesville High School, where she teaches classes on avoiding substance abuse.