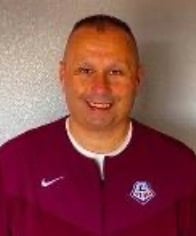 Bob Lapadot
Head Coach, Garrett high School
Bob Lapadot is an IBCA District 1 Coach of the Year after guiding Garrett to a 27-2 season that included championships in the Warsaw Holiday Tournament, the Northeast Corner Conference, the NECC Tournament, the Woodlan Sectional and the Bellmont Regional.
Lapadot has compiled a 179-79 record in 11 seasons with the Railroaders, including four conference titles (two Allen County Athletic Conference, two NECC), two conference tourney crowns (one ACAC, one NECC), three sectional trophies (2014,2020 and 2022) and this season's regional title. In 2013-14, Garrett posted a 20-0 regular-season mark, the only undefeated season in school history.
This season's squad set school records for most victories (27) and consecutive victories (25), the two losses coming to eventual Class 4A champion Noblesville in the third game of the season and to eventual Class 3A champion South Bend Washington in the LaPorte Semi-State.
He also has been appointed head coach of the 2022 Indiana Junior All-Stars.
Lapadot is a 1993 graduate of Garrett, where he was a 10-sport letterman in football, basketball and baseball. He excelled in baseball, twice being named team MVP, four times all-conference and all-area. As a senior, he was selected area Player of the Year and chosen for the Indiana All-Stars Home Run Derby.
He matriculated to IPFW, where he earned his bachelor's degree in 1998. While in college, he returned to Garrett as a girls' basketball assistant coach and just completed his 27th season in the program. He served as the Railroaders' varsity assistant for 16 seasons before becoming the head coach in 2011-12. The program is 460-176 in the past 27 years. He was named KPC Media Coach of the Year in girls' basketball in 2014 and 2021, and Outside The Huddle girls basketball Coach of the Year in 2021.
Lapadot also was the Railroaders' head track coach for eight years, advancing athletes to the State Finals in five of those seasons. He currently is in his 21st year of teaching eighth-grade social studies at Garrett Middle School.
Lapadot had his wife, Sarah, are parents to two children – Brandon, 25, and Brooke, 17.