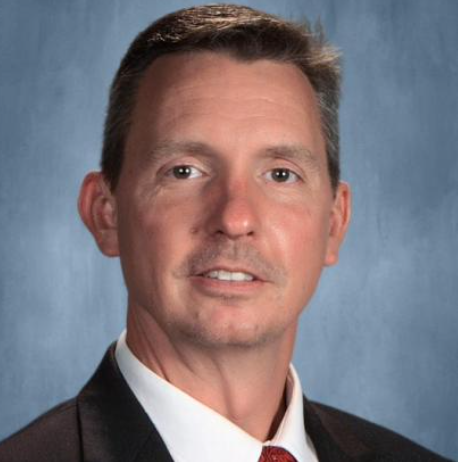 Tom Black
principal, east central high School
Tom Black started his athletic and educational career at Jay County High School in 1994 while still attending Ball State as an undergraduate. He worked as a freshmen boys' basketball coach under his father, Jim Black, the long-time high school and college basketball coach and former IBCA district representative.
Black followed by spending two years as the girls' basketball and track coach at Muncie South (1996-98) before moving to northwest Indiana to be closer to family. He continued his teaching and coaching career at Kankakee Valley for the next seven years (1998-2005), working under Jack Gabor as JV boys' basketball coach for a season before accepting the head boys' basketball position in 1999. Black also coached boys' golf and girls' tennis during his time at KV.
He moved to Attica in 2005, where he coached boys' basketball and track for just one year. He then accepted a position at South Decatur, where he spent seven years as an English teacher, assistant athletic director and coached boys' basketball, boys' track and JV baseball.
Before leaving the coaching ranks, Black was able to be a part of four sectional championship and three regional runner-up teams. He worked with and for some amazing coaches, including his father Jim Black, Jimmie Howell, Jack Gabor and Mike Broughton.
Black's career in administration has spanned nine years at two schools. He served as dean of students, assistant principal and principal at Jennings County from 2013 to 2018. Since the fall of 2018, he has been the principal at East Central.
Although no longer in the coaching ranks, Black, in the first of a three-year term on the IHSAA Board of Directors, spends a great deal of time supporting his school's sports teams and extra-curricular groups. People have said at every school where he has worked that Black's attention and support of school spirit and culture is second to none. Whether it is the pushups he does after touchdowns in front of the student section at football games or leading the "WE ARE" cheers in the gymnasium or the natatorium, Black is – and always has been – about kids and school pride.
***
IBCA Administrator of the Year honorees
The IBCA began presenting an Administrator of the Year Award in 2008.
Here is a list of winners of the award from 2008-present:
2008 -- District 1: Michael Pettibone, superintendent, Adams Central Community Schools.
District 2: Jerry Holifield, superintendent, Plainfield Community School Corp. District 3: Kendall Wildey, principal, Jennings County High School.
2009 -- District 1: Garry Nallenweg, athletic director, Chesterton High School. District 2: Kevin Horrigan, athletic director, Greenfield-Central High School; Phil Waddell, athletic director, Hamilton Heights High School. District 3: Gary Cook, principal, North Decatur High School.
2010 -- District 1: Larry "Jake" Jackowiak, assistant superintendent, Concord Community
Schools. District 2: Mike Huey, athletic director, New Palestine High School. District 3: James Babcock,
former athletic director, assistant principal and principal, Paoli High School.
2011 --
Black and his wife, Carlee, have been married for 11 years. The couple has two sons – Asher, 7,