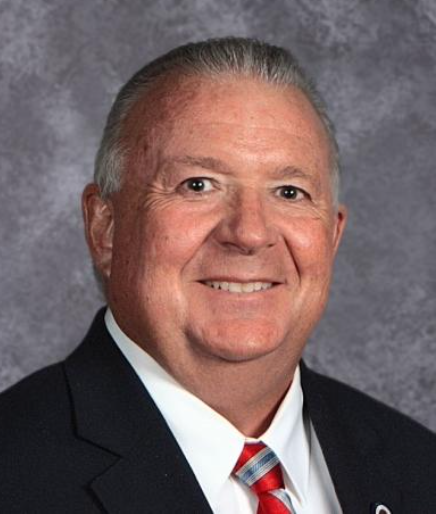 Pat Mapes
superintendent, Perry township Schools
With 32 years of experience in public education, Pat Mapes has provided leadership and advocacy at the local, state and national levels. He has raised student achievement by placing teacher leaders at the forefront of school improvement, and he continues to be a champion for student academic growth and teacher leadership.
Mapes graduated from Union High School in Modoc, Ind., in 1982. While at Union, he earned varsity letters in basketball, golf and baseball. He went on to attend Ball State University, where he earned a bachelor's degree in education in 1988, a master's degree in education in 1993 and a specialist in education degree in 2004. He has spent his career helping to guide students on the court and in the classroom as a teacher, coach and administrator.
While a teacher, Mapes also was an assistant boys' basketball coach at Union (1984-86), Winchester (1986-87) and Daleville (1987- 88). He followed by being the varsity boys' basketball coach at Daleville
(1988-90), Cowan (1990-93) and Knightstown (1993-94).
Mapes moved into administration at Knightstown, serving as an assistant principal there in 1993-
94 and later at Delta Middle school from 1994-97. He was principal at Delta Middle School from 1997- 2000 and at Delta High School from 2000-04. He became assistant superintendent for the Delaware Community School Corporation from 2004-06 and served as the corporation's superintendent from 2006- 09.
He worked as the Assistant Superintendent of Public Instruction for the state of Indiana from 2009 to 2012, during which time he developed the REPA Educator Standards and the LVIS Educator Licensing and Verification system, as well as state guidelines for school efficiency. Mapes followed by serving as chairman of the Indiana Education Employment Relations Board from 2012 to 2016. Since October 2016, he has been the superintendent of Perry Township Schools.
Mapes served as a member of the IHSAA Board of Directors from 2000 to 2006, and he assisted the IBCA and the Indiana All-Stars by making Southport High School available as a venue for the annual doubleheaders against Kentucky in 2020, 2021 and 2022.
Mapes is the proud father of two adult daughters.