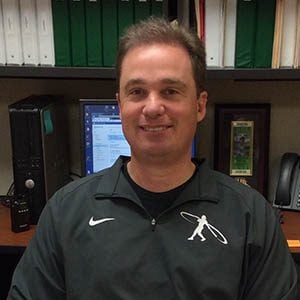 Jeff Cerqueria
Athletic Director, floyd central high School
Jeff Cerqueira is completing his 12th year as athletic director at Floyd Central High School, where he is highly regarded for his organization and the well-rounded program that his alma mater fields.
Cerqueira began his career in education in 1990 at Scottsburg High School, where he was a math teacher and an assistant coach in basketball and baseball. He moved to Floyd Central as junior high math teacher from 1993-98, serving as a high school assistant coach in football, basketball and baseball for four years and as the Highlanders' varsity baseball coach in 1998.
He then became an assistant principal at Charlestown Middle School for 13 years before returning to Floyd Central as high school athletic director and assistant principal in 2011.
A 1985 graduate of Floyd Central, Cerqueira was named all-Hoosier Hills Conference in football, basketball and baseball. He played basketball for Joe Hinton and was a part of Highlanders' teams that won three sectionals and two regionals. He also was a standout in baseball, setting FC school records for hits, runs scores and RBI.
Cerqueira went on to Indiana State University, earning a bachelor's degree in math. While at ISU, he was a catcher in baseball for the Sycamores, competing on Bob Warn-coached teams that played in 1986 NCAA College World Seires and finished as runner-up in the 1989 NCAA South Regional.
He later earned a master's degree in administration from Indiana University-Southeast in 1994.
Cerqueira enjoys playing golf and collecting sports memorabilia when he has free time.
He and his wife, Michelle, have two children – Schyler, 26, and Braxton, 23..