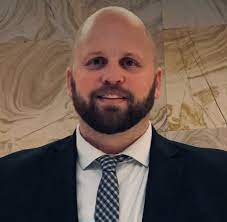 Brandon Ecker
Athletic Director, Mt. Vernon (fortville)
Brandon Ecker is in his eighth year as athletic director at Mt. Vernon High School, bringing a well-organized and enthusiastic approach to his job on a daily basis.
Ecker began his career in education as a social studies teacher at Union County High School in 2004-05. He moved to Richmond High School as a teacher for the next three years, also serving as an athletics supervisor at nearby Centerville High School in 2007-08. Ecker followed by serving as a teacher and assistant athletic director at Shelbyville High School from 2008-12.
Ecker served as athletic director at New Castle High School from 2012-15 before accepting his current position at Mt. Vernon in Fortville.
A 2000 graduate of Centerville, Ecker competed in tennis, wrestling and baseball while in high school. He was a two-time Tri-Eastern Conference champion and was named second-team all-state in singles for tennis teams that claimed two sectional and two regional championships. He also was a regional qualifier in wrestling.
He then went on to Huntington University, where he played tennis for a Foresters' program that won the 2000-01 Mid-Central Conference championship, qualified for the NAIA national tournament and won an Academic All-American Team Award. He earned a bachelor's degree in history and secondary education from Huntington in 2004 and later earned master's degree in education from Western Kentucky in 2013.
Ecker was recognized with the Charles F. Mass Distinguished Service Award for District IV from the Indiana Interscholastic Athletic Administrators Association in 2019 and was named IIAAA Athletic Director of the Year for District IV in 2021.
Ecker and his wife, Brandy, have been married for 12 years. He has a stepson, Bryndan, 15; and a daughter, Blaikely, 9. He enjoys watching his children in their activities and traveling whenever the family gets a chance to do so.